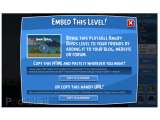 Angry Birds now playable on any website No escape now Angry Birds is everywhere, including... dum, dum, sum...Blog Unikom Bintang That's right, following a new trick from Angry Birds creator Rovio, Facebook users can now embed and play any level in their site, allowing them to challenge friends to see if they can beat their high scores. It means that soon you'll be able to play even the hardest of levels without having to unlock every level - just look for a certain level on a blog or website. Here, for example is the first level of the game: To be able to play the game, you will have to be logged in to Facebook ....
Angry Birds Land opens at Särkänniemi Theme Park in Finland 12 rides to enjoy Angry Birds fans wanting to get even more Angry Birds fun and games can now visit Angry Birds Land at Särkänniemi Theme Park in Finland. The themed area of the park consists of 12 rides, an adventure course, games and food points, designed especially for families and young children. The area opens today, but finishing touches will continue until the beginning of June 2012, the park's owners warn. The official opening will be celebrated on Friday June 8. Those planning to visit the new Angry Birds Land can do so by jumping on a Ryanair flight to Tampere either from...
The Simpson Akan Hadir di Update Game Angry Birds Space Kabar mengejutkan datang dari game fenomenal, Angry Birds. Game besutan Rovio tersebut dikabarkan akan membawa Homer Simpsons sekeluarga ke luar angkasa untuk melawan babi hijau pencuri telur. Homer Simpsons yang dimaksudkan adalah serial kartun populer di Amerika Serikat, The Simpsons. Tentunya anda masih ingat dengan serial kartun keluarga yang satu ini. Kehadiran The Simpsons di game Angry Birds nampaknya akan ada di update Angry Brids Space yang telah menghadirkan 10 level terbaru. Seakan ingin terus memancing rasa penasaran para penggemar Angry Birds, diupdate ini Rovio juga menampilkan teaser berupa...