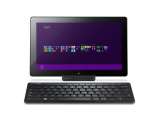 No DVD playback for Windows 8 The only way to watch DVDs on Microsoft's new operating system, Windows 8, will be through purchasing Media Center or other third-party software. The absence of any native DVD player was announced on Microsoft's official Building Windows 8 blog, which said the bizarre decision was due to a "sharp decline" in the number of people who use their computer to watch DVDs. Instead the focus of Windows 8 will be on H.264, VC-1, MP4, AAC, WMA, MP3, PCM and Dolby Digital Plus codecs. If you are what Microsoft deems the minority and you do use your computer to watch DVDs, there are other options. One is to purchase the Media...
Tablet Windows 8 Berbasis x86 dari HP Diklaim Akan Lebih Tipis Dari Apple iPad Kehadiran Windows 8 langsung disambut baik oleh beberapa vendor, salah satunya adalah HP yang dikabarkan tengah menyiapkan sebuah Tablet Windows 8 berbasis x86 yang diklaim akan memiliki ukuran yang lebih tipis dari iPad milik Apple. Tablet besutan HP ini kabarnya akan memiliki daya tahan baterai hingga 8 sampai 10 jam, dan dibekali dengan layar 10,1 inci. Tablet ini akan ditujukan untuk para pebisnis sehingga tidak memakai arsitektur ARM. Belum diketahui berapakah kisaran harga untuk tablet Windows 8 dari HP ini, namun sepertinya tablet ini akan menjadi saingan serius bagi iPad milik Apple. Meg...
Windows 8 Miliki Manajemen Konektivitas Yang Akan Memanjakan Penggunanya Jika anda menggunakan Windows 8, maka anda tidak perlu untuk memasang driver yang berbeda-beda. Sebagai gantinya, Microsoft menyediakan driver broadband yang bisa bekerja untuk banyak perangkat. Arsitektur baru ini secara otomatis akan berpindah antara jaringan mobile dan wifi dengan mempertimbangkan biaya internet yang dipakai. Antarmuka koneksitas ini juga disatukan baik 3G, 4G, Bluetooth, hingga wifi. Windows 8 menjanjikan untuk memecahkan semua masalah konektivitas. Dengan pengalaman pengguna yang telah disederhanakan, manajemen jaringan cerdas dan platform yang kuat untuk diferensiasi Windows 8...
Dibaca : 1561 Kali
Senin, 23 Januari 12 - 16:11 WIB
0 Komentar
Rating : 1 Bagus, 0 Jelek
WINDOWS8